VIKING WEEK
The second Orkney Viking Week is going ahead 9th – 19th September 2021. It will be a blended online and face-to-face outdoor festival, jointly organised by Orkney Time Travel and Orkney Archaeology Society. If you have an event that you want included on the programme, email info@brodgar.co.uk
Programme
Falconry in the Viking Age
 Once again, Skaill House Falconry, Sandwick, are putting on Viking themed falconry for Orkney Viking Week. See their website for times and tickets.
Meet Odin the eagle owl and the other birds of prey at Skaill House, and learn about how the Vikings used trained birds for hunting. The display will consist of a talk about the folklore involving owl, hawks and falcons. A demonstration of how the Norsemen used hawks and falcons to hunt in their every day life as Falconry is mentioned in the Sagas numerous times. Includes owl handling.
For more details and booking, see Skaill House Falconry's web page.
Viking sheep and wool
Viking sheep and wool with Jane Cooper, Orkney Boreray
More info, times and booking on the Orkney Boreray webpage for Viking Week
As part of Orkney Viking Week, Orkney Boreray invites you to visit our flock of Boreray sheep in West Mainland.  These little short-tailed sheep were vital for Viking life and exploration. For the Vikings, the Short-Tailed sheep were extremely important.  Their unique double coated fleece had properties essential for the sails that powered their boats and longships, as well as providing clothing that could withstand the wet and cold.  Work reproducing woollen sails has shown other qualities of the wool of these tough little sheep that made it possible to have woollen sails.  Calculations of the work involved in making these sails and the number of sheep required give insights into Viking life.
Viking Kirkwall, walking tour
Viking themed walking tour of Kirkwall with Dr Ragnhild Ljosland (Orkney Time Travel).
Saturday, 18th September
11 am
Duration c. 1.5 hours, walk length 0.7 miles.
Meet at Kirkwall Travel Centre/Kirkwall Visit Scotland iCentre, outside bus waiting room.
Free of charge (tips welcome, and also welcome are online donations to Orkney Archaeology Society)
Booking: register with a free ticket from Eventbrite to give me an idea of how many are coming.
A walking tour of Kirkwall, from its beginnings as a Viking harbour to a Norse medieval trading town and capital of Orkney. See the Viking harbour, follow the old shoreline where Norse traders would have operated, hear the dramatic story of Rognvald Brusason the dashing young Earl of Orkney and founder of Kirkwall as the Orkney capital and his deadly enemy Thorfinn the Mighty, visit the old "thing" assembly site, and view the magnificent St Magnus Cathedral, home to Orkney's Norse patron saint (outside view only). Finally, find out how Kirkwall played a part in Norway's losing sovereignty over the Western Isles, and how Orkney itself finally ceased being part of Norway and became part of Scotland.
Lint & Yarn
Living history event with Orkney Time Travel and A Frayed Knot.
Sunday, 12th September, 2 pm (c. 3 hours)
Venue: Blackbraes, Stenness (see Eventbrite for map)
Cost: Free (donations to Orkney Archaeology Society)
Book on Eventbrite – limited numbers due to restricted space
Hands-on workshop on how to work flax. Textile production was a major part of Viking women's daily responsibilities. Flax (known locally as lint) was grown for linen production used in finer textiles. Flax fibres can also be used in production of rope and string. In this event, you will try your hand at some of the process required to transform flax plants into workable fibres, rope or textile. You will learn about how Norse people used flax and linen and hear some of the stories they told. Together we will learn a traditional Orkney toast mentioning linen and flax.
Colleen Batey: Tour of The Earl's Bu, Orphir
Tour of the Earl's Bu and Round Kirk site with archaeologist Dr Colleen Batey.
Sunday 19th September, 2 pm
Free, with donations welcome to Orkney Archaeology Society.
Please could you register on Eventbrite to give us an idea of how many are coming. Thanks!
Colleen Batey is an archaeologist and author of numerous works on the Viking Age, including Vikings in Scotland: An Archaeological Survey. She has excavated major Viking Age sites both in Orkney and elsewhere, such as Brough of Birsay and Birsay Village, Earl's Bu Orphir, Westness Rousay, Jarlshof in Shetland,  Freswick Links in Caithness, and Hofstađir in Iceland.
On this tour, you will get a chance to hear first hand from Colleen Batey about her excavations at The Bu in Orphir, site of the Earl's hall and Round Kirk, with associated buildings and mill.
Please wear warm and waterproof clothing and sturdy footwear, suitable to the weather conditions on the day.
Chris Morris: Tour of Birsay Bay
Tour of Norse Birsay with archaeologist Chris Morris.
Thursday 16th September, 11:00 am.
Assemble at the Point of Buckquoy
Donations to Orkney Archaeology Society (online or cash on the day)
Please register on Eventbrite to let us know you are coming – Thank you!
Chris Morris is Emeritus Professor of Archaeology at Glasgow University. Morris excavated for many years at Birsay Bay, and the last volume of a three-volume set presenting results from his work has just come out:
The Birsay Bay Project Volume 3: The Brough of Birsay, Orkney: Investigations 1954-2014
Available for order now from Oxbow Books:
This tour gives a rare opportunity to see and learn about the site directly from Chris Morris first hand.
Please note: This tour presents some physical challenges and requires some fitness, good clothes and sturdy footwear. It includes walking over rough ground and across the causeway to the Brough which is likely to be slippery and wet.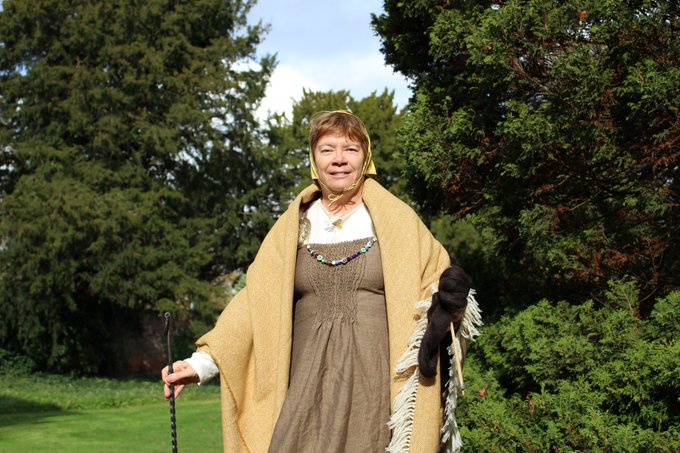 Prof Judith Jesch: Telling the Orkney Story - Reflections on Orkneyinga Saga
Thursday 9th September, 7 pm.
Cost: Free, but please consider a donation to Orkney Archeology Society.
Booking: Register on Eventbrite to receive a Zoom link.
Judith Jesch is Professor of Viking Studies, Nottingham University, specialising in Old Norse language and literature, runology, and interdisciplinary Viking Studies.
In this online lecture, she will share her recent research on Orkneyinga Saga.
NB This talk will not be recorded.
Annie Thuesen: Viking tourism in Orkney
Friday 10th September, 7 pm
Cost: Free
Booking: Register on Eventbrite to receive a Zoom link
Annie Thuesen is a PhD candidate with the University of the Highlands and Islands Institute for Northern Studies.
In this online talk, she will share her research into Orkney's potential for tourism to the lesser visited Viking/Norse sites.
Nikolaus Frenzel: Legal customs in Orkneyinga Saga
Sunday 12th September, 7 pm British Summer Time.
Cost: Free – please consider giving a donation to Orkney Archaeology Society online
Booking: Register on Eventbrite to receive a Zoom link.
Nikolaus Frenzel completed his Master's degree in Viking Studies at Nottingham University in 2020, with a research project looking at Orkneyinga Saga and what it can reveal about legal structures and procedures among the Norse. In this talk, he will share some of his findings.
What makes an outlaw and how were outlaws treated?
What constitutes a transgression of the norm?
What are the consequences of norm transgressions for the offender and their family in Norse society?
Ragnhild Ljosland: Thorfinn the Mighty, the person and the saga hero
Wednesday 15th September, 7 pm BST (c. 30 mins), via Zoom
Donations to Orkney Archaeology Society
Booking: Register on Eventbrite to receive a Zoom link.
Dr Ragnhild Ljosland graduated in Scandinavian language and literature from the Norwegian University of Science and Technology, and has since 2009 been Lecturer with the University of the Highlands and Islands in Orkney.
In this talk, she considers a key figure from Orkneyinga Saga: Thorfinn the Mighty, his portrayal as a traditional Viking saga hero and Christian hero, and the possible human life that lies behind the literary figure.
(Expanded version of talk first given at Sagalands seminar, St Magnus Cathedral, September 2019)
This talk will be recorded and made available afterwards on Orkney Archaeology Society's YouTube channel.
Meet the author: Lexie Conyngham, Orkneyinga Murders
Meet the author of the Orkneyinga Murders book series!
Thursday 16th September, 7 pm via Zoom (c. 40 mins)
Book on Eventbrite to receive Zoom link
Tomb for an Eagle:
A man lies under the tawny earth, hands still clutching the knife that killed him.
Thorfinn Sigurdarson, Earl of all Orkney and Caithness, has made a mistake, and he won't let himself forget it.
Now rumours have started in the Norse lands that he might be getting a second chance – but should he take it, when it means that dead men are walking?
A Wolf at the Gate
Ketil had not intended to return to Orkney, but when you work for Thorfinn Sigurdarson, you obey orders. Thorfinn wants him back to help with a visiting Abbot from Saxony, escorted by an old colleague of Ketil's. Then people who know the Abbot start dying, and Ketil must once again work with his friend Sigrid to find out why – and to face dark memories from his own past.
At the event, there will be an exclusive surprise reading from Lexie Conyngham's new book in progress!
Colleen Batey: The Earl's Bu, Orphir
Online talk with Dr Colleen Batey
Friday 17th September, 7 pm BST via Zoom
Booking: Register on Eventbrite to receive a Zoom link.
Donations to Orkney Archaeology Society
In the 1980s and 90s, excavations by Glasgow University led by Dr Colleen Batey uncovered fascinating Viking Age and Late Norse structures and deposits at the Earl's Bu in Orphir. Known from Orkneyinga Saga as one of the homes of the Earls of Orkney, the site consisted of high status building, a 12th century round church, and an earlier horizontal mill and channel. Rich midden deposits showed that the feasting scenes from the saga were realistic, and evidence of silver and gold bore witness to a site of high prestige and importance. In this online talk, Colleen Batey tells us more about this fascinating site and her work there.
NB This talk will not be recorded.
For those who can make it in person, the talk will be followed by a tour of the site on Sunday 19th September at 2 pm (see above).